SSBN 658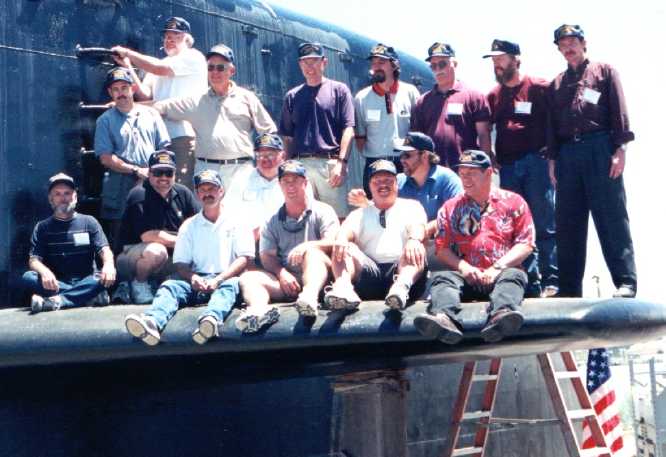 ALL HANDS REUNION 99
JULY 1-4, 1999
Vallejo California
---
I found a long lost friend, Jim Vennard, through the Ron Martini subboard in Feburary 1997. Rick Bruce, another shipmate, found me there a few days later. After a couple of emails and phone calls, the fire was lit. I contacted Subnet and asked for info on the 658. They provided me with a crewlist of 8 names. I knew one person on the list, Rick Kazar. I was a messcrank under Rick but he did not remember me at first. Rick told me of his trip to Charleston to see the 658 decommissioned. In turn, I told the others. Rick Bruce felt we should have a web page for the boat. I agreed and started to teach myself more about the internet and HTML. April of 1997, this web site went online. A very basic web project to say the least. Three pages of very little information and a few graphics.
In time the web page grew as more crew members found it. It has been an amazing phenomenon to watch. 50 names on the crew list, then 100, 300 and on and on. Photos and memorabilia donated by crew members built the galleries and sparked the fond memories we all hold close. Talk began of a reunion, a get together of men telling sea stories and having a few beers. In honor of the 658 and her illustrious history, I made contact with the City of Vallejo. Someone there put me in touch with Martha McGettigan, General Vallejo's great great granddaughter. She was very excited to hear about our plans and to this day I cannot thank her enough for her input, help and support. The planning process for the reunion started in late 1997.
The links below will show you the outcome of many phone calls and several road trips. The crew members that were able to attend the reunion, 108 of them, have told me they had a wonderful time. I can only hope the photos will show that and spark interest in our next reunion. Words cannot describe the tremendous amount of gratification I received from seeing these men together. I had to step back sometimes and take the entire picture in. The look on a shipmates face as he found that sea pal from many years before is a look that will forever be in my memory. I did not know 90% of the men that attended the reunion, but I will remember them forever as my friends. I share a bond with them that can never be broken.
I hope you enjoy the photos of our reunion but more so I hope to meet you in Charleston 2002.