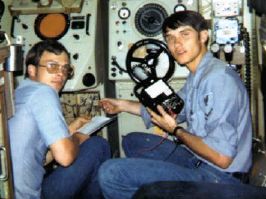 Ricky Aldrich and Russ Rombokas.
Trouble shooting in the Sonar Shack.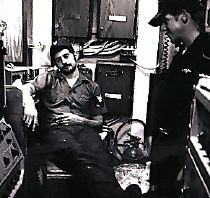 Sonar relaxation as demonstrated by
Jim Vennard to Bill Sculley.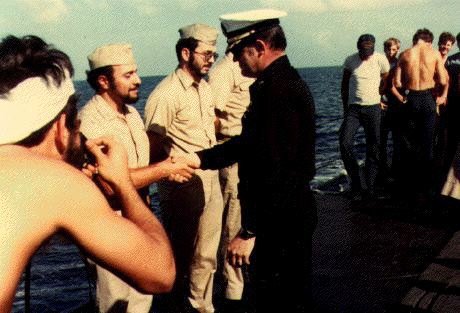 Mike Adinolfi and Skip Moyer make Chief! Capt. Lachata officiates.
The A-Gang of the Blue crew in Rota 1978.
Front Row L-R Lt. Ridgeway, Bill Schlink, Smitty, Otto Schupback
and Pat Maloney. Second row L-R Tom Sugars, Chief Been, Chief McKillip
and Warlick. Back Row L-R Chris Branch, Parker, Dave Thomas and James Jesse.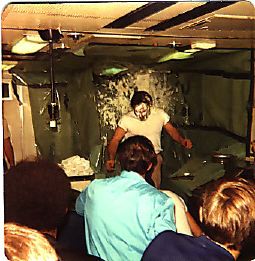 Halfway Night pie raffle. Nobody is immune.
Capt. Lachata gets one in the face from a messcrank.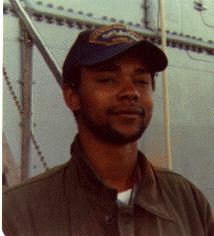 MM3 Dave Thomas. Topside Petty Officer.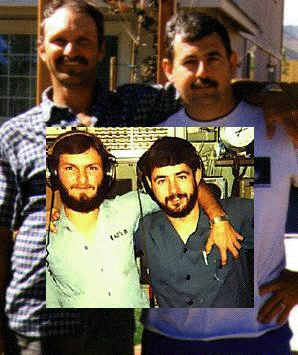 The inset photo is me and my sonar pal Jim Vennard in the
sonar shack in 1979. Then we meet again in 1997 at
my house in Reno. Our own little reunion.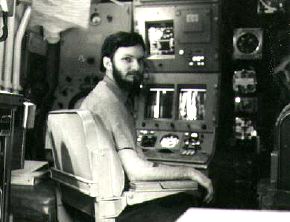 Me standing sonar watch.
Where are the headphones?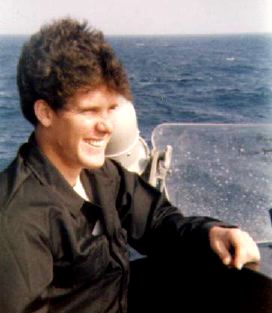 MM3 Joe Howenstein topside running in the Bahamas.
Joe and I met in boot camp. Every time we said goodbye
we wound up stationed together again. First Sub School,
then the 658. Still friends today.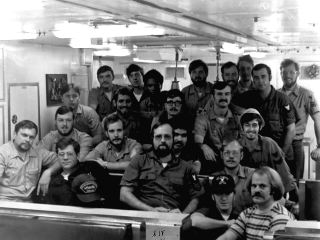 22 April 1978, USS Vallejo Blue Missile Technician division, picture taken immediately after 4 missile Operational Test launch. Seated (L to R) MTC(SS) Bill Bates, Ensign Emile Tosso, 3 Technical Support riders (not ships crew); second row; TM2(SS) Curt Milbaugh, TM2(SS) Ricky McCart, MT2(SS) Gooch, MT2(SS) Rick Bruce; third row; MT3(SS) Kenny Baker, MM3(SS) Smith, MT3(SS) Tupper, MSSN(SS) Art Hamm, MT1(SS) Bill Brooks; fourth row; MT1(SS) Phillip Mallich, MT3(SS) Wes Kouns, MT3(SS) Ruffin, MT2(SS) Delmar Allen "Poopsie" Taylor, LT Morgan, MM3(SS) James Jesse, MT1(SS) Donald Craig, MT1(SS) Michael Luken (not ships force).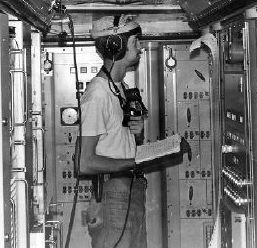 22 April 1978 MT2(SS) Rick Bruce operating
Missile Test and Readiness Equipment(MTRE) Mk 7
during a Poseidon (C3) missile Operational Test Launch.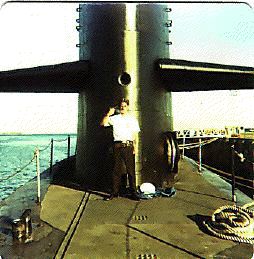 Rob Thornton, the Topside Clown.
We had some fun watches together.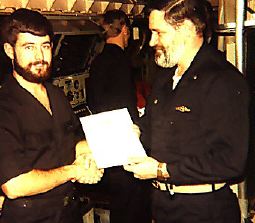 STS3 Jim Vennard receiving his dolphins
from Capt. Lachata.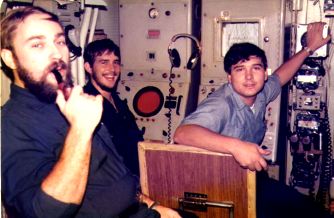 Once again nobody is wearing the headphones.
L-R Ron Hill, Keith Ingram and Jim Tincup.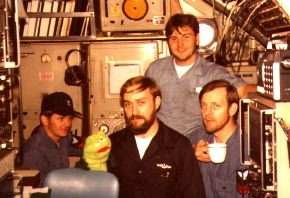 More Sonarmen. L-R Jerry Watts, Ron Hill, Ken
Knoblett and Larry Matlock. The little green gal
was our mascot, Shithook.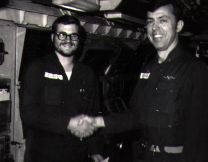 MM2 Tom Sugars receiving his dolphins
from Capt. Hassler.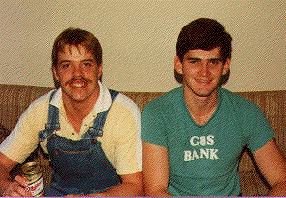 Tom Bickerton and Ken Maxey. Tom and I are still friends today after
all these years. Ken was killed shortly after his discharge in 1982.
He is remembered and missed.