USS Mariano G. Vallejo SSBN 658
2008 All Hands Reunion Groton CT


July 17-19, 2008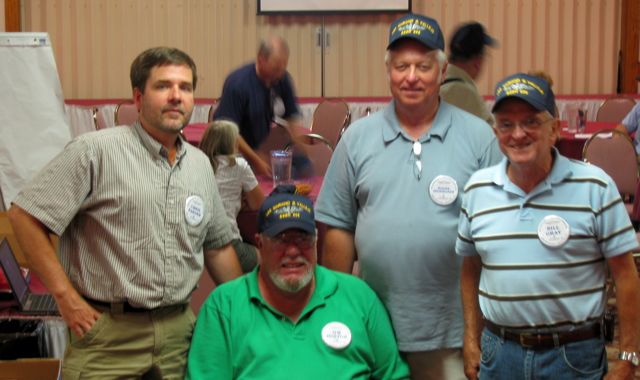 REUNION COMMITTEE Left to Right
Chris Farver (Chairman) Jim Huston, Roger Shoemaker, Bill Gray, Skip Attaway (not pictured)
A heart felt thanks to our committee for a job so well done. Bravo Zulu!!
Chris Farver, Bill Gray, Jim Huston, Roger Shoemaker and Skip Attaway
OFFICIAL REUNION LOGO
(Click Logo for The Reunion Pages)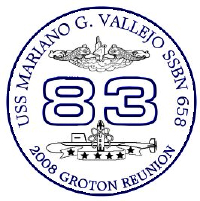 Logo design by Roger Shoemaker and Dana Penny
The fourth All Hands Reunion was held in Groton CT, a place all submariners are familiar with. As 658 sailors are accustomed, everything went perfectly. From day one of registration meet & greet until the final moments of the banquet, the seas were smooth and the winds steady.
We must all tip our hats to the people responsible for putting this event together. Chris, Jim, Roger, Bill and Skip. We applaud your efforts and cannot begin to thank you and your families enough for the time and energy you have spent the last year. In our fine tradition as shipmates with a deep bond of brotherhood, we owe you each an unpayable debt of gratitude. Thank you gentlemen.
The links of these pages will help you navigate through the days of fun we had in Groton. (Click the Logo) I have mentioned as many names as I can see or recall. If I have omitted one please know it is not on purpose. Just drop me a note and I will make the correction required ASAP. As with the other parts of your webport I hope you find memories, smiles and more importantly friends. Many 658 alumni have not attended reunions yet. I would like to say a word to those that have thought about going but hesitate because they do not see familiar names on the attendance rosters. You will not walk away from a 658 reunion empty. You will leave with things that you have forgotten. You will leave with new friends. You will leave with a feeling of fond remembrance of the days you so proudly served our great country. You sailed the best of the 41 for Freedom and she carries on through each of us. She carries on within you. I hope to see you all in 2011 at the 5th All Hands Reunion.... where ever that may be. Enjoy the links Brothers of the Deep. Fairwinds and following seas. Click the Reunion Logo to see the report and pictures.
Special thanks to the following for their financial donations that made this reunion possible:
Randall "Red" Smith for the donated beverages at the picnic.
Rich Alkire
Allen Armstrong
John Baadte
Paul Backe
Tim Becker
Lewie Bickford
Edwin Bills
Chris Bowen
James Campbell
Jim Carter
Eugene Cerullo
Jack Crosby
James Day
Mike Davies
Fred Getter
Charles Gettler
Tom Gibson
Dan Goldman

Bill Gray
Earl Gunia
Carl T. Haley
John Hoffman
Jim Huston
Robert Ingle
Arne Johnson
Bob Kentner
John Kienitz
Ray Larson
John Malik
John Maloney
Stephen Manchur
Richard May
Michael McCord
Gerald McDonald
Robert Meara
Michael Mohn

James Moore
Larry Morse
Tom Mulkerin
Christopher Mumford
Roger Norton
Bill Priest
Nick Rakos
Robert Saunders
Jim Scandura
Joseph Shaben
Micheal Shinego
Harold Sippel
Harold Tackett
Mark Wagner
Jonathan Wollen
Diana Webb
Walter Zeigler